Our Daughter at the BBC Proms
Freya played with the NYO at the BBC Proms in August 2022. I wrote this piece for the local paper.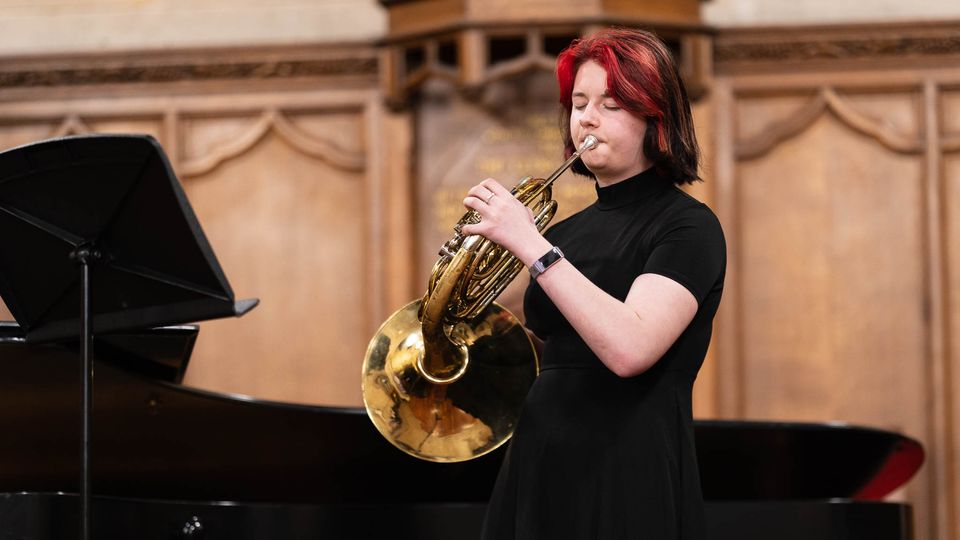 I wrote this text for our local paper, The Arran Banner, for publishing on 19 August 2022. The link to the edited digital copy in the newspaper is at the bottom of the text and requires a subscription to read.
---
Freya Campbell (18) of Lamlash performed with the National Youth Orchestra of Great Britain at the BBC Proms in the Royal Albert Hall on Saturday, 6 August.
The 150-piece orchestra performed three pieces during a two-week summer residential course in Newcastle, including a piece specially written for the orchestra by renowned film composer Danny Elfman.
Freya began learning to play the French horn at Lamlash Primary School as part of the school's initiative to encourage all pupils to take up a brass instrument. The tutoring and encouragement of Dave Payn and James O'Neil set Freya on her musical journey.
Freya studied French horn as a junior at the Royal Conservatoire of Scotland under Ken Blackwood in 2019-20 and again under Sue Baxendale in 2021-22. She and Cerys Herapath, also a horn player from Lamlash, played with the North Ayrshire Schools' Senior Concert Band in 2019, winning a platinum award in the regional heats and taking platinum again at the National Concert Band Festival finals in Manchester.
Freya auditioned for the Music School of Douglas Academy in Milngavie in early 2020 and secured a place for S5-S6. Then the pandemic hit, and the world closed down.
Unperturbed, Freya practised at home as hard as ever while studying with her tutor over video-conferencing software.
As restrictions began to ease, Freya secured places with the National Youth Orchestra of Scotland and the West of Scotland Schools Symphony Orchestra. She played with both orchestras in spring this year.
In March, Freya entered the Glasgow Music Festival with fellow pupils from Douglas Academy. She won the Glasgow Music Festival Association Award for Brass and Woodwind, reaching the finals of the festival.
Before graduating from RCS Juniors in June, Freya performed in a whirlwind of concerts with the RCS Juniors' Senior Choir, Concert Band, Wind Band, Symphony Orchestra and Percussion Ensemble, always to a very appreciative audience who had long been awaiting the return of live music events.
In late July, Freya went to Newcastle to study with the NYO under the tutelage of conductor Andrew Gourlay and Danny Elfman. They played three nights at the end of the course, starting in Manchester's Bridgewater Hall on Wednesday, followed by Saffron Hall in Saffron Walden on Friday, and finishing with the BBC Proms at the Royal Albert Hall on Saturday.
It's been an amazing two years for Freya. She's shown incredible dedication as a musician, going from Grade 4 in 2020 to Grade 8 with Distinction this year and passing her Advanced Higher Music with Grade A.
Playing with the NYO at such a prestigious event as the Proms was a real cherry on top of a challenging couple of years.
In September, Freya starts a Bachelor of Music Honours Degree at Guildhall School of Music & Drama in London.
The Campbell family would like to thank the Arran Society of Glasgow and the Agar Trust for contributing to Freya's tuition, travel and accommodation costs, and the British Horn Society for contributing to the cost of Freya's instrument.
The BBC Proms concert, featuring the London première of Elfman's 'Wunderkammer', Gershwin's 'Rhapsody in Blue' and Ravel's 'Daphnis et Chloé', is available on the BBC Sounds app and will be shown on BBC Four on Friday, 19 August.
This piece was edited and published in the Arran Banner newspaper, Arran's local paper, on 19 August 2022. The digital copy is behind a paywall. This version is as written by me before being edited for the newspaper.
https://www.arranbanner.co.uk/2022/08/19/freya-goes-from-musical-strength-to-strength-with-royal-albert-hall-performance/
Thanks to Russell Smith, JUDE KLINGER, and Leo Ariel for contributing to this article.