I Believe in Thomas Covenant, the Unbeliever.
My take on finishing the Last Chronicles of Thomas Covenant, the Unbeliever.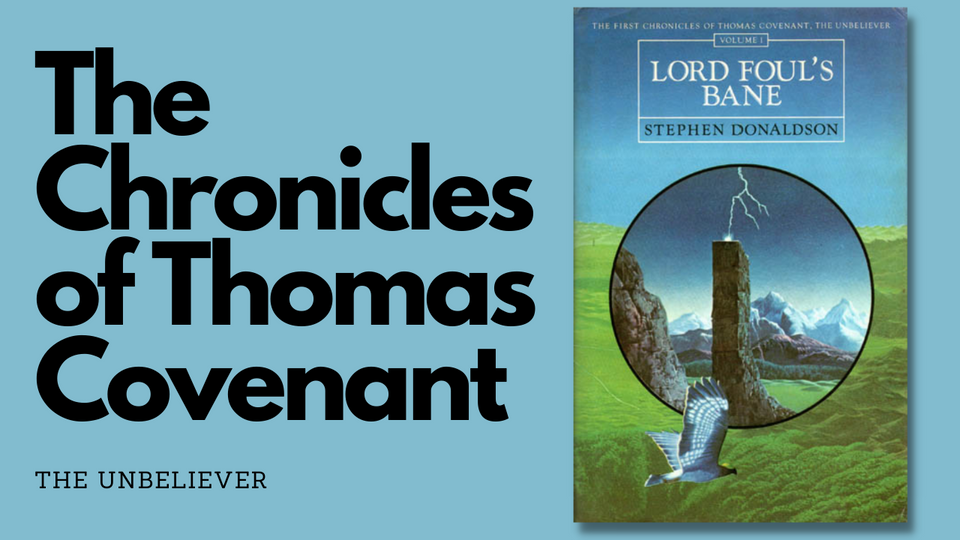 I finally finished the Last Chronicles of Thomas Covenant the Unbeliever, by Stephen R. Donaldson!
I started the first book of 10 in 1990 or 91, so I'd have been 19 or 20, a very Different Bear indeed in some ways, and in others, not so much.
I and a few pals were reading these books around the same time and I used to like nothing more than getting bevvied and talking about them. I have a fond recollection of discovering that a friend of a friend at whose garden party I was at had also read them and I was so happy to talk to someone new about these amazing books.
That said - they're not for everyone. They're a bit of a slog actually, and there's a particular scene in the first book that causes a lot of people to quit in disgust. But 30 years later, having just finished the last of the 10 books, I can say that there is a redemption of sorts.
What I love most about these books is how the concepts of self-loathing and despair are dealt with. Thomas Covenant, the main character, is rather a troubled soul and is not particularly nice to himself or to the people around him. He gets leprosy as a young man and his family soon abandons him. He then basically becomes an outcast. He develops rituals to keep him from hurting himself on sharp corners and from shaving cuts and such like. His constant mantra of "don't touch me!" isn't really an endearing way of greeting people.  
His self-loathing grows and he gets more and more angry at the world. Is this something I can relate to? You bet it is. It reminds me of myself in so many ways, even more so now in my late 40s as a sober alcoholic. Anyone who's had the privilege of seeing me in my post office job would've had an opportunity to see how that low self-esteem manifested. Not my best moment.  
You will not fail, however he may assail you. There is also love in the world.
Although these books are dark, the thread of love is there in abundance throughout. The fantasy land where Covenant finds himself in each of the books is a rich and wonderful place, where one can feel the power of the earth and natural law is a thing that people respect and care about. That love and harmony and sense of belonging to something greater are all at stake through a manifestation of Covenant's self-loathing in a baddie known as Lord Foul.
I've been travelling with Covenant for 30 years now. I've read the first two trilogies multiple times and related to him in different ways each time. First time I was growing into my alcoholism; the second time I was in its midst; and the third time I was a few years into recovery.
'Only the great of heart may despair greatly.' All that malice and contempt is just love and hope and eagerness gone rancid. He's the Creator's curdled shadow. He—" He grimaced again. "I'm not saying this right. "He gives us the chance to do better."
As I finished the last of the Last Chronicles yesterday, I found myself choking up at the ending, and today I'm in a state of wonder at just how important these books are to me. I know that this won't be the last time I read these. In fact I'm tempted to jump right back to the beginning again, armed with the knowledge I've earned. In fact, d'you know what? I'm gonna do just that. Who's up for reading along with me?