Happy New Year! 🎉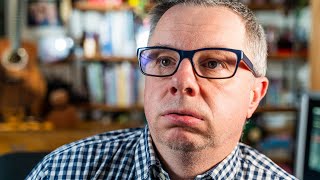 New year. That's what everyone's talking about today. Good riddance to 2020 and all that.
#2020amirite?
Well, actually, not really.
Here's a Tweet I posted yesterday that sums it up for me…
So for me 2020 was a Very Good Year. I've left it behind with focus and with a clear sense of purpose. It feels like I've been living my life wrong and I now have a chance to turn it around and learn how to become the person I want to be.
August Bradley and his Guiding Principles
It wasn't just the Part-time YouTuber Academy that turned my year around. Earlier in the year I found August Bradley's content when I was considering Notion, the productivity app that a lot of people are using these days. August has been a huge inspiration to me in the way that he has built his content around a specific niche and how he uses it to offer value for free, a tactic that brings people naturally into his sales funnel.
It wasn't so much August's tuition on Notion that appealed to me as it was his approach to life. Notion just happens to be the tool that he uses to organise his life in a way that enables him to focus on his guiding principles in everything that he does.
I won't go into much more detail than that other than to say that it appealed in a big way and so I took his first course and enjoyed it a lot.
And yes, I do now know what my guiding principles are, but it took a few months to figure out. This process is something I would love to help others with on my own channel. So if you're interested in that, you know what to do!
---
Hogmanay
New year's eve can be a difficult time for everyone, but more particularly for alcoholics. And for alcoholics in Scotland? Nightmare!
I decided to make myself feel better by making a video about how I was feeling and share it with the world. It worked.
---
New Year's Day
Having gone to bed sober at just after midnight, I woke up feeling bright and breezy. I can't even begin to tell you how good that feels after so many years of drunkenness. The sun was shining and I stood out on the porch in the frost and closed my eyes for five minutes as the sun shone down. I can't think of a more perfect way to start the year.
I came back in, made a cup of coffee and jumped onto a livestream that went out on YouTube, Facebook and Periscope. I really enjoyed doing that and am planning on making it a regular feature of my channel, probably on Sunday mornings at 10.
That was followed by a really nice walk on the beach with my wife and the dogs. Perfect.
---
2021 – The Year of Courage
I mentioned earlier about how I'm going into 2021 with focus and a clear sense of purpose. I'm going to be turning everything in my life around so that it points towards my guiding principles, which are to be a better husband and a better father. It sounds obvious, right? But that's not how I've been living my life. I have a really clear sense of how I'm going to do that, but it basically boils down to a single word: COURAGE.
It'll all be built in public through my newsletter, on my YouTube channel and on Twitter. The more people I have following my journey, the more accountable I will be, which is exactly what I'm looking for!
---
🙏🏻 Thank you for subscribing to and reading my newsletter. It would mean the world to me if you would consider sharing this with a friend, particularly a friend that you may think could use some help with alcoholism and recovery.